WHAT: Badminton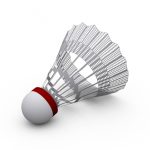 FOR WHO: For all – any skill level and all ages.
WHEN: Wednesday evenings.
Under 16s 7.15-8.15pm
Seniors 8.15- 10.30 pm
WHERE: Church Halls
MORE INFORMATION: 
Junior Club under 16's
We meet each Wednesday 7.15-8.15pm. Our numbers are down from last year there are only 7 members, although the numbers are few they are very dedicated.  We are very pleased by the enthusiasm of the young players and we are tremendously grateful to all the parents who deliver and collect on those dark and damp evenings. Without your support we could not meet.  Thanks to the 2 courts, we have room for more members.  So any under 16's please come and have a bit of fun.
Senior Club
We are proud to boast we have a very wide age range in our senior club. We are not affiliated to any league but we have friendly matches home and away with Annalong Presbyterian Church, these matches have been going for quite a number of years, it is as much about the supper as the competition.  Fortunately, quite a few new members joined our ranks this year. We are a very sociable/ amicable bunch. We are not very competitive, just some light exercise each Wednesday night and of course we would not miss our 9.00pm cup of tea.  We would always welcome newcomers. So if you yourself or anyone you know would like to come try this great sport, please come along 08.15-10.30 Wednesdays.