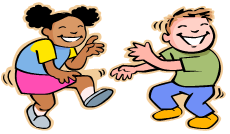 WHAT: Saturday Parent And Children Events
FOR WHO: All Parents with Children
WHEN: Saturday afternoons throughout the year.  Watch the notice boards.
WHERE: Usually in the Church Halls
MORE INFORMATION:
The original aim of SPACE was to allow "young" parents with children to meet on a Saturday afternoon in an informal and relaxed atmosphere.  The kids could play together – usually through some organised games – and then eat and get some food together – while the parents can hopefully relax and have a coffee and some chat.  There is currently no rigid calendar of events for SPACE so keep an eye on the announcement sheet.